The Daniel Jones era is underway; and in stunning fashion.  A brilliant, multi-faceted offensive performance by Jones, in his first NFL start, led the Giants to their first victory of the season, a 32-31 stunner on the road against the Buccaneers.  The win was neither clean (the defense allowed Jameis Winston to throw for 380 yards and barely held on thanks to a wide-right potential game winning chip shot field goal) nor without costs (Saquan Barkley went down with a high-ankle sprain and will be out for 6-8 weeks). But the win was emblematic. There was a changing of the guard before our eyes—an end of an era, a new hope.
The Book of Eli is complete for the moment, though an epilogue would surprise no one. There was the Good, the Bad and the Euphoric. Two Super Bowl Championships, of which Eli was the MVP both times, will have Canton opening its doors once he officially hangs 'em up.  He was the face of one of the most popular and valuable brands in the sports world for 15 years, with expectations as large as the city he represented.  Of football royalty, a true blueblood, Eli was able to ingratiated himself with, and win over, a fanbase known for a Springsteenian blue collardness. With the bright lights always focused on him, Eli survived and at times flourished down in jungleland.
They say "heroes get remembered [and] legends never die," but that doesn't make saying goodbye any more difficult. That time is now and the time is right. Eli was not the main reason the Giants struggled all of 2018, nor why they stumbled out of the gate this season. Still, Manning would not have won in Tampa Bay this past Sunday. In an always evolving NFL game, some semblance of mobility is a necessity at quarterback; more so when your make-shift offensive line continues to search for cohesiveness. The New York Giants are a better football today than they were last week.
Like the girl with curl, when Eli was bad he was – somewhere in horrid's zip code. In 2007, then in his fourth season after taking over for Kurt Warner in '04, Eli struggled to not turn the ball over. A stalwart defense led by Strahan, Tuck, Osi and Kiwanuka was seemingly going to waste, as Eli made too many mistakes riling up the NY faithful and putting coach Tom Coughlin firmly on the heat seat. This culminated on a Sunday after Thanksgiving, when the Vikings, touting the league's worst defense, came into the Meadowlands and with 3 Eli Pick Six's (4 INTs total) handed Big Blue a demoralizing 41-17 defeat.   As legend has it, handsome, rational and intelligent Giants' fans were calling for backup Anthony Wright or even.. gulp.. Jared Lorenzen (RIP Hefty Lefty) to take over for QB10. But in classic Eli fashion, he shook it off – maybe more of a shrug.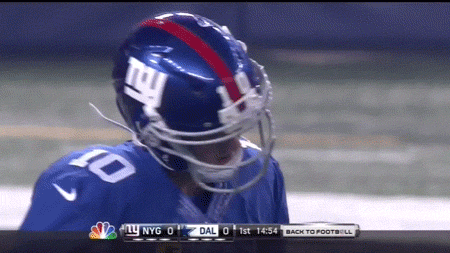 He tempered the INT's and the fumbles and was just good enough to guide the Giants to a wildcard spot in the playoffs.  Giants and Patriots fans know the rest of this story.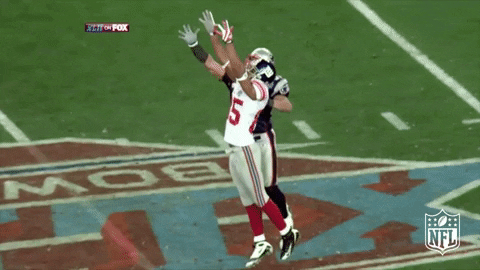 In the end sports maintains its incredible importance and significance in society at large because of its stories and indeed its moments. The moments that make you hug everyone around you, even strangers, or call (text) everyone you wish you had been sharing it with. The ones that make you leap. And laugh. And gasp. And cry.  Eli gave Giant's fans two of the greatest stories in the history of football; two of the greatest moments in all of sports for a lifetime.
There is a new kid in town, and for the first time in a long time, there is hope and joy in East Rutherford. In one fell 60-minute swoop, Mr. Jones has quieted the five months of post-draft rancor towards Gettlemen's selection of him with the 6th pick, and gives solace to fans that there is life after Eli.[1]  Life with Eli was never boring, sometimes maddening, but also glorious. Manning, always the good soldier (even in this demotion) was always accountable, took every question, answered every bell, and got up every time he fell. He gave Giants' fans more than we could have ever asked for, far more than we ever deserved. True Blue to the end.
[1] Somewhere in a dark room in New Jersey, Ben McAdoo sits in ill-fitting sweats, wondering what the hell. His plan to find an heir apparent to Eli was met with mutiny. The timing was not right nor was the potential successor…Geno Smith?!